A Fully Independent, Client-Centered Wealth Manager
"I left a large national investment firm in late 2008 because they ignored my warnings and failed to protect clients' investments. I went independent to ensure this never happened again."   –  Andrew Ruhland, Founder
Financial freedom reduces dependence on government, charities and family. Thus our services support the sovereignty of the individual. 
We believe in family, community and the Western Canadian way of life: self-reliance, frugality, hard work, innovation and unalienable personal freedoms. 
We are reality driven, not blind followers of the popular narrative. We detest corruption, elitism & political correctness, unnecessary bureaucracy, "group think" and biased mainstream media.
Clients' best interests come first and always. Portfolios and Wealth Plans are customized based on your Life Goals. Our fees are transparent, and aligned directly with Clients' account values. We have no conflicts of interest.
Independent Macro Analysis
We follow independent institutional-quality economic, geo-political and market analysis from Armstrong Economics, Institutional Advisors and  Michael Campbell of MoneyTalks and his long-standing group of market experts.
Forward Thinking Portfolios
Our investment solutions are forward thinking, customized, structured AND dynamic, and with a decided bias towards capital preservation and prudent growth. We don't speculate, and we have no conflicts of interest.
One benefit of being totally independent is that we don't have a distant head office dictating our worldview, or censoring our free speech. We prefer to deal directly with hard truths, being both forthright and respectful.
Wealth management involves integration of specialized skills, tools and services. In support of our Clients' Life Goals, we actively collaborate with investment specialists, accountants, estate lawyers and insurance professionals.
Our Clients are real people with goals, aspirations & life experiences. We take pride in delivering responsive, effective and personalized client service. We'll serve a maximum of 250 Families, which means our service level is sustainable.
Client Centered Professional Relationships
Our client relationships are based on five principles.
We invest the time to thoroughly understand what's important to you – i.e., Your Values, Beliefs & Priorities.
We ensure our interactions are mutually candid, truthful, respectful and timely.
Equal treatment of client capital, regardless of account size.
Fees are based on total family portfolio value vs. transactional commissions. Thus when you prosper, we prosper; if you suffer we suffer with you.
Together For The Long Term
We are a stable, committed team here for the long run. To ensure personal and responsive service we will serve a maximum of 250 families.
We develop and maintain long term professional relationships with our clients. In order to optimize your outcomes there needs to be a mutual fit.
Independent, forward-thinking, optimistic, personable, candid and realistic.
Comfortable accepting personal responsibility for their major life decisions.
Willing to receive insightful advice and take meaningful action in order to get the desired results. Our clients are willing to deal with challenges, not deny them.
Entrepreneurs who understand both risk and reward.
Diligent savers who want to steward their wealth intelligently.
Comfortable with open delegation of specialized expertise. We are not suited to serving those who insist on holding tight control of everything based on an inability or unwillingness to trust and fairly compensate competent professionals.
Together Everyone Achieves More (T.E.A.M.) is the driving principle behind how we serve clients. 
Meet your core advisory team.
We've partnered with best in class investment managers to oversee client portfolios. Collectively they manage almost $5 Billion in assets.
We also collaborate with other specialists who support estate planning, tax, insurance and business planning needs for our clients.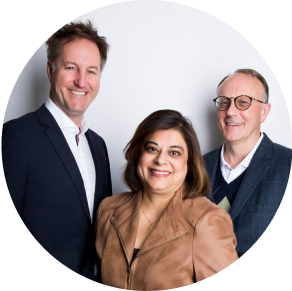 Book an intro call with us.
We're friendly and won't pressure you into anything.  We'll help you assess if we're a fit, and answer any of your burning questions.